ADA
ADA Compliance Consultants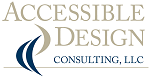 Accessible Design Consulting, LLC
(http://adacomply.com)
Accessible Design Consulting is a Pittsburgh, PA based consulting firm working with small, medium, large, for-profit and non-profit businesses, as well as local governments, in fulfilling the legal obligations of Title II and Title III of the Americans with Disabilities Act.
Our ADA auditors are capable of conducting an extensive evaluation of your physical location identifying barriers outlined in the ADA Accessibility Guidelines (ADAAG) and work with you in determining low cost, and in some cases no cost, alternatives to compliance.
ADA compliance is NOT an option its the law! The ADA is a civil rights law and not a building code; older facilities are NOT grandfathered in. Regardless of the size of your business, if customers, vendors or visitors come to your facility, you must be compliant. Under the ADA public accommodations are private entities that own, lease, lease to or operate a place of public accommodation. This means that both the landlord who leases space in a building to a tenant and the tenant who operates a place of public accommodation have responsibilities to remove barriers.
Accessible Design Consulting also provides consulting services to businesses who provide ADA services, such as:
New building contractors

Remodelers

Paving and cement contractors

Plumbers

Line painting contractors

Realtors

Human Resources Managers

Investment Property Managers
Group presentations available to businesses and service contractors by appointment
ADA Resources
ADA Document Center
(https://askjan.org/links/adalinks.htm)
Created by Duncan C. Kinder with the assistance of the Job Accommodation Network, the Great Lakes Disability and Business Technical Assistance Center, and the ADA OHIO Steering Committee
ADA Home Page
(https://www.ada.gov/)
From the U.S. Department of Justice.
Americans with Disabilities Act
(https://www.ada.gov/2010_regs.htm)
(full statute)
The ARC
(https://www.thearcinc.org/)
The Arc was a leader in helping to get the Americans with Disabilities Act passed into law. Since then, the organization has been active in educating and assisting consumers, businesses, employers, local state government and the general public on the law.
California Department of Industrial Relations
(http://www.dir.ca.gov/)
Includes workers compensation and workplace safety information
Job Accommodation Network
(https://askjan.org/)
Miller Law Group
(https://www.millerlawgroup.com/)
A place where HR professionals and employers can go to find answers about ADA compliance issues and more. A Reading Room provides interesting articles and newsletter pieces on various topics in employment law on the side of the employer and HR professional.
National Institute of Disability Management and Research
(http://www.nidmar.ca/index.asp)
Based in Canada.
Online Human Resources Guide to Hiring & Employing the Disabled
(https://onlinehumanresources.net/hr-ada-overview/)
HR Professional's resource to hiring and employing the disabled in accordance with ADA regulations. Includes best practices, checklists, and additional resources for topics such as hiring and recruiting, reasonable accommodation, and performance management.
US Dept of Justice ADA Page
(https://www.ada.gov/)
Links to government documents.
Questions and Answers from EEOC
The ADA: Questions and Answers
(https://www.eeoc.gov/facts/adaqa1.html)
from the U.S. Equal Employment Opportunity Commission