ADA
ADA Compliance Consultants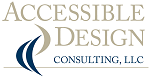 Accessible Design Consulting, LLC
(http://adacomply.com)
Accessible Design Consulting is a Pittsburgh, PA based consulting firm working with small, medium, large, for-profit and non-profit businesses, as well as local governments, in fulfilling the legal obligations of Title II and Title III of the Americans with Disabilities Act.
Our ADA auditors are capable of conducting an extensive evaluation of your physical location identifying barriers outlined in the ADA Accessibility Guidelines (ADAAG) and work with you in determining low cost, and in some cases no cost, alternatives to compliance.
ADA compliance is NOT an option its the law! The ADA is a civil rights law and not a building code; older facilities are NOT grandfathered in. Regardless of the size of your business, if customers, vendors or visitors come to your facility, you must be compliant. Under the ADA public accommodations are private entities that own, lease, lease to or operate a place of public accommodation. This means that both the landlord who leases space in a building to a tenant and the tenant who operates a place of public accommodation have responsibilities to remove barriers.
Accessible Design Consulting also provides consulting services to businesses who provide ADA services, such as:
New building contractors

Remodelers

Paving and cement contractors

Plumbers

Line painting contractors

Realtors

Human Resources Managers

Investment Property Managers
Group presentations available to businesses and service contractors by appointment
ADA Consultant Services
(https://adaconsultantservices.com/)
Our Certified Access Specialists (CASp) at ADA Consultant Services help your business stay compliant with Americans with Disabilities Act laws and regulations to try to prevent ADA compliance violation lawsuits in California.
ADA Compliance Consultants, Inc.
(http://www.ada-pros.com/)
ADA Compliance Consultants, Inc. specializes in helping businesses interpret Americans with Disabilities Act (ADA) requirements and providing compliant solutions. Whether you are considering a remodel of your facility or are out of compliance due to recent code changes, we guarantee our solution will meet guidelines and potentially save you money.
Compliance Design Consultants
(http://www.compliancedesign.com/)
Practical field experience with a variety of clients and facility types enables CDC to identify access barriers and recommend compliant and cost-effective solutions to accommodate individuals with disabilities
Disability Access Consultants
(http://www.dac-corp.com/)
Disability Access Consultants (DAC) offers a full continuum of accessibility compliance services and software to assist business and public entities in compliance with local, state and federal laws and regulations.
Disability Smart Solutions
(http://disabilitysmartsolutions.com/)
Disability Smart Solutions is committed to working with organizations and companies who believe in diversity and social inclusion. We are an ADA Accessibility consulting company providing resources to businesses that serve the unique needs of both the 50+ aging population and people living with disabilities.
WT Group
(https://wtengineering.com/solutions/accessibility-consulting/)
WT Group's Accessibility Consulting team provides the answers and strategies necessary to make recreation and public facilities accessible to all members of the community, with and without disabilities. We are committed to educating clients on best practices and minimum requirements to comply with the Americans with Disabilities Act (ADA) and other local codes. Our philosophy is that exceeding the minimum is in the best interest of every client.
ADA Resources
ADA Document Center
(https://askjan.org/links/adalinks.htm)
Created by Duncan C. Kinder with the assistance of the Job Accommodation Network, the Great Lakes Disability and Business Technical Assistance Center, and the ADA OHIO Steering Committee
ADA Home Page
(https://www.ada.gov/)
From the U.S. Department of Justice.
Americans with Disabilities Act
(https://www.ada.gov/2010_regs.htm)
(full statute)
The ARC
(https://www.thearcinc.org/)
The Arc was a leader in helping to get the Americans with Disabilities Act passed into law. Since then, the organization has been active in educating and assisting consumers, businesses, employers, local state government and the general public on the law.
California Department of Industrial Relations
(https://www.dir.ca.gov/)
Includes workers compensation and workplace safety information
Job Accommodation Network
(https://askjan.org/)
Miller Law Group
(https://www.millerlawgroup.com/)
A place where HR professionals and employers can go to find answers about ADA compliance issues and more. A Reading Room provides interesting articles and newsletter pieces on various topics in employment law on the side of the employer and HR professional.
National Institute of Disability Management and Research
(http://www.nidmar.ca/index.asp)
Based in Canada.
Online Human Resources Guide to Hiring & Employing the Disabled
(https://onlinehumanresources.net/hr-ada-overview/)
HR Professional's resource to hiring and employing the disabled in accordance with ADA regulations. Includes best practices, checklists, and additional resources for topics such as hiring and recruiting, reasonable accommodation, and performance management.
US Dept of Justice ADA Page
(https://www.ada.gov/)
Links to government documents.
Questions and Answers from EEOC
The ADA: Questions and Answers
(https://www.eeoc.gov/facts/adaqa1.html)
from the U.S. Equal Employment Opportunity Commission